Nitrobenzene, with the chemical formula C6H5NO2, is an industrial chemical and the simplest aromatic nitro compound. The chemical appears to be a pale yellow to dark brown oily liquid with an aromatic almond-like odour. It is slightly water-soluble and evaporates in the air. It has a molar mass of 123.06 g/mol and a density of 10.0 lb/gal.
Its respective boiling, melting and flash points are210.9°C, 5.85°C and 190 °F. It emits toxic nitrogen oxide fumes upon combustion. Its exposure can cause irritation to the skin, eyes, and respiratory tract as well as cause methemoglobinemia causing fatigue, dizziness, dyspnea, shortness of breath, disturbed vision, collapse and even death.
Nitrobenzene has primary application in the manufacturing of aniline, along with making lubricating oils, drugs, dyes, pesticides, and synthetic rubber. It helps make lubricating oils that are used in motors and machinery. It is also used as a solvent and as a mild oxidizing agent.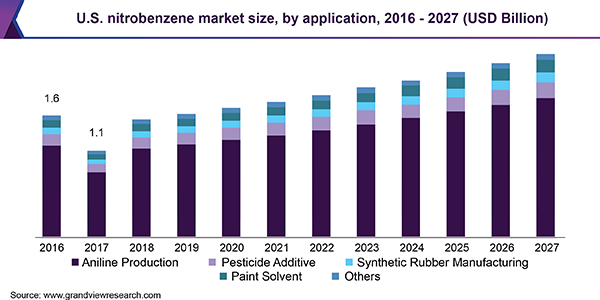 Furthermore, it has applications in shoe and floor polishes, leather dressings, paint solvents, as well as other materials to conceal unpleasant odours. It is also employed in Kerr cells since it has many large Kerr constants. In addition, when redistilled as oil of mirbane, it can be used as a cheap perfume for soaps. It also facilitates the production of the analgesic paracetamol (or acetaminophen).
The Production Process of Nitrobenzene
From Benzene and Nitric Acid: The production of nitrobenzene takes place using benzene and nitric acid. During this method, a plug-flow nitrator (with jet-impingement) or a tubular nitrator is employed for carrying out the reaction among nitric acid, benzene, and sulphuric acid, yielding the nitration product, which gets purified further to obtain nitrobenzene.
The Key Players Operating in the Nitrobenzene Market
BASF SE– The company creates chemistry for a sustainable future combining financial success along with environmental protection and social responsibility. The company portfolio includes six components' Materials, Chemicals, Industrial Solutions, Agricultural Solutions, Surface Technologies, and Nutrition & Care.

The Chemours Company (DuPont)– Chemours is a unique chemistry company with a world-class portfolio that offers industry solutions ranging from automotive, paints, and laminates to advanced electronics, construction, energy, and telecommunications leading to a capable, colourful, and cleaner world. They allow technologies and innovations that are more sustainable, like electric vehicles, clean energy including hydrogen, coatings that make durable and developed infrastructure, as well as a better energy-efficient cooling. 

Covestro AG– The company is among a leader in supplying premium polymers offering materials and application solutions through innovation and sustainability that are driving the ongoing progress of their products, processes and facilities. They produce precursors for polyurethane foams, high-performance plastic polycarbonate and precursors for adhesives, coatings, sealants, as well as speciality products, including films.

Huntsman International LLC– The company and its employees use science and ingenuity to create innovations that play a vital function in the everyday lives of millions of people. As a global company for chemicals, they work to form building blocks for numerous consumer and industrial products that are used every day.

Wanhua– The company is one of the global leaders in supplying innovative chemical products. It relies on constant innovation, commercialized facilities and efficient function, providing consumers with more competitive products and solutions while adhering to innovation and optimizing industrial structure. They cover products like petrochemicals, polyurethanes, performance chemicals and emerging materials.
Nitrobenzene Price Trend and Forecast Study
North America
Recently, the open market valuation of Nitrobenzene in the North American region displayed mixed market sentiments because of the fluctuating downstream demand from the automotive and construction sectors. Owing to the inconsistent pattern of growth in the downstream industries through the period, the regional nitrobenzene market demand from these sectors stayed unstable.
In addition, one more factor that had an impact on the Nitrobenzene industry growth comprised irregular production and upstream prices. Accordingly, the nitrobenzene price trend lowered in October, rose in November, and again fell in December.
Asia Pacific
Amid slow downstream demand and reduced upstream costs recently, the prices of nitrobenzene steadily dropped in the Asia-Pacific region. The demand for nitrobenzene dropped recently as the downstream automotive and construction industries underperformed with regard to output and the market's performance.
Also, the nitrobenzene production cost lowered gradually as a result of lower energy prices, which eventually accelerated a drop in the market value of the product. Due to this, the assessed prices for the product were reduced compared to earlier.
Europe
Amid the wavering downstream demand from the construction and automotive sectors, the Nitrobenzene market value in Europe showcased a mixed market sentiment. The demand for Nitrobenzene in the domestic market from these industries stayed unstable because of the uneven growth patterns in downstream industries throughout the time frame. Further, the erratic manufacturing and upstream costs were additional factors that had an impact on the nitrobenzene market.
The nitrobenzene market is rapidly developing due to its various end-user applications that make its sourcing vital. The blog covers the product's various aspects, like pricing trends, key market drivers, the process of production, and the competitive landscape.
Hence, the key market players and procurement strategists can use the in-depth analysis covered above to gain some insight into the current market situation from key applications to supply and demand analysis.
Furthermore, the large investment makers in the nitrobenzene market are likely to give tough competition to medium- and small-scale market players by launching the latest technologies based on production, research, and packaging.
The shareholders are focused on positive or biased negative impact industries, including agriculture, pharmaceuticals, and construction, to keep the economy operating. The companies are striving to find the right balance for resilience in the supply chain and other business expenses.